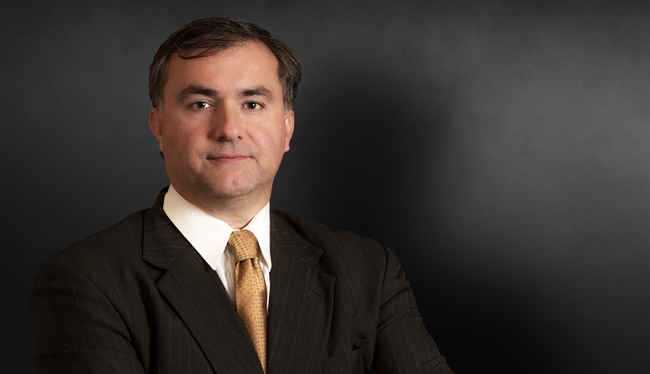 Nick P. Panayotopoulos
Partner
Nick co-heads the firm's commercial litigation and class action practice groups. Nick's broad-based civil litigation practice focuses primarily on class actions and other commercial litigation, construction litigation, environmental litigation, and complex torts. Known for his mastery of (and excelling in) complex, high-stakes cases, Nick is often referred such cases by the most recognized and well-regarded litigation firms in the country.
He has represented his clients in litigation and arbitration of more than 100 state and federal cases throughout the nation, including claims with thousands of plaintiffs. Nick has on several occasions been hired to defend claims where the disputed amounts exceeded $1 billion and has advised on the prosecution of multi-billion dollar claims.
Nick's practice is exemplified by his defense of thousands of claims in the highly publicized Chinese-manufactured drywall multi-district litigation. He was appointed to the Defense Steering Committee by the Honorable Eldon E. Fallon of the U.S. District Court for the Eastern District of Louisiana, where he defended numerous class and direct actions. Nick has defended many well-known manufacturers, power companies, natural resource companies, construction firms, and law firms that choose him for their "bet the company" litigation.
Lead class counsel that was Nick's adversary in a significant class action described Nick to the court as follows: "Nick Panayotopoulos [and co-counsel] have considerable experience defending class actions. They were highly skilled adversaries and their team's defense of [Fortune 500 Company and its subsidiary]", which resulted in the dismissal of a nationwide class action against the Fortune 500 Company and a settlement of a much smaller class against the subsidiary, was "diligent and inventive".
AV® Preeminent rated in Products Liability, Litigation, and Commercial Law by Martindale-Hubbell, Nick is recognized by his clients and adversaries for "fierce, tenacious and conscientious client advocacy" and for "excelling in complex litigation matters where numerous attorneys are involved.
Practice Areas
Education
Emory University, B.A., 1990
Tulane University Law School, J.D., cum laude, 1993
Bar & Court Admissions
State Bar of Georgia
Alabama State Bar
New York State Bar
U.S. Court of Appeals, Eleventh Circuit
U.S. District Court, Northern District of Georgia
U.S. District Court, Middle District of Georgia
U.S. District Court, Southern District of Georgia
U.S. District Court, Southern District of Alabama
U.S. District Court, Northern District of Ohio
U.S. District Court, Northern District of Illinois
Court of Appeals of Georgia
Supreme Court of Georgia
Representative Experience
Defended Illinois biometrics statute class action dispute in federal court with tens of millions in dispute. Court granted motion to dismiss while denying plaintiff's motion for leave to amend.
Motion to dismiss class allegations against client warranty corporation granted in New York state court action. Affirmed on appeal.
Motion to dismiss class action allegations granted prior to discovery, after the Court acknowledged that "in most cases, it is necessary to go beyond pleadings and allow for discovery and/or an evidentiary hearing." The Court found that "the propriety of class certification is evident from the pleadings." "The Court agrees with Defendant that 'this gobbledygook of words strung together in a desperate effort to overcome the lack of factual information does nothing, once again, to nudge the line from conceivable to plausible." December 2019, Northern District of Georgia.
Trial court awards client defendant corporation every dollar sought in post-judgment motion for attorney's fees and expenses, after client becomes prevailing party in employment dispute. Award of fees against plaintiff more than triple the amount plaintiff sought in relief.
Motion to dismiss granted in favor of Fortune 500 client in nationwide class action dispute with billions in dispute.
Successfully defeated motion to remand based on Class Action Fairness Act. This was the first nationwide time the argument made had succeeded in this type of case.
Following multi-week trial, jury awarded 1/20th of amount requested against client and found non-parties over 70% at fault.
Defended claims covering allegedly defective construction product (after firm tried the first nationwide contested trial) and settled more than 4,000 claims, over 300 state court cases, 32 class actions, and multi-district litigation ("MDL") in Louisiana in claims of hundreds of millions against the client. Client paid nothing out of pocket, even though policy limits were a tiny fraction of actual damages.
Defended, and was selected to be part of the Defense Steering Committee, numerous mining and timbering defendants, including Massey Coal and Massey Energy, from class action and other claims for flooding damage brought by thousands of homeowners and businesses in what is believed to have been, at the time, the largest mass tort claim in West Virginia history.
Defended all members of the compensation committee of the board of directors of a publicly traded company against class action brought by shareholders alleging breach of fiduciary duty and seeking damages in connection with allegedly spring loaded stock options grants and excessive compensation.
Nationwide class action voluntarily dismissed and Plaintiffs and Plaintiffs' counsel stipulated to never refile claims as a class action, following the filing of Motion to Dismiss Class Allegations or to Deny Class Certification. The case was removed to a federal district court within the Eleventh Circuit, and the Motion was filed as the first responsive pleading, before any discovery was conducted by any party.
Advised on litigation strategy concerning multi-billion dispute concerning DOE's Nuclear Waste Fund.
Successfully handled numerous FDCPA and TCPA cases. Co-counsel on TCPA case with over $10 billion in dispute dismissed against client with no money paid.
Defended numerous mass tort litigations throughout the country, including multi-district litigations and class actions such as those involving building construction materials and other products, food borne related injuries, flooding of tens of thousands of businesses and homes.
Recovered in excess of $10 million for clients in 2015. Recovered well over $50 million in cash or other consideration for clients in five-year period.
Often called on to advise manufacturers and businesses in class action litigation.
Defended a major power company in a certified class action lawsuit with more than 3,300 claimants. Plaintiffs claimed tens of millions in damages. Case settled for $1.45 million, less than estimated cost of defense.
Obtained summary judgment for general contractor in a highly publicized contractual dispute over construction of a jail in Alabama.
Prosecuted claims for over $100 million against foreign businesses.
Class certification attempts abandoned by putative class in Eastern District of Virginia ("Rocket Docket") after vigorous defense of class issues.
Summary judgment granted in business litigation dispute and judgment upheld by the Georgia Court of Appeals. Cert to the Supreme Court denied.
Class certification efforts abandoned by putative class in "Rocket Docket", the Eastern District of Virginia, after defense motions on class issues.
Plaintiff dismisses claims during jury selection after Court grants defense motions in limine and denies plaintiff's motions concerning jury selection. Plaintiff refiled in different Court.
Successfully defeated class certification efforts brought on behalf of thousands of homeowners and businesses concerning property damage resulting from flooding.
Collected millions for client financial corporation in complex business litigation dispute against another financial corporation.
Collected millions on behalf of client corporation in breach of standard of care/breach of fiduciary duties claim against professional firm.
Multi-year litigation against law firm client dismissed with prejudice at start of trial. Client law firm paid nothing in exchange for the dismissal.
Defense verdict in property damage case against client corporation after admitting liability.
Minor actual damages (less than cost of defense) awarded against client defendant at trial while co-defendant found liable for largest verdict of its type in jurisdiction.
Client corporation successfully defended class action and other claims of approximately $1 billion in property damage by pursuing actions against foreign manufacturing corporations for indemnity, contribution, and fraud until foreign defendants agreed to indemnify client for all potential losses. Prior to the firm's engagement, client had released claims against target corporations.
RICO, breach of fiduciary duty breach of contract and fraud case against former executives of client corporation favorably settles after judge grants all of client plaintiff's motions in limine and denies all of defendants' motions on first day of trial.
Minor actual damages (less than cost of defense) awarded against client defendant at trial while co-defendant found liable for largest verdict of its type in jurisdiction.
Awards & Recognitions
Martindale-Hubbell®, AV Preeminent Rating 4.9/5.0, with "high ethical standing"
The Best Lawyers in America®, Litigation Insurance (2022-2024)
The Best Lawyers in America®, Mass Tort Litigation / Class Actions - Defendants (2024)
Professional & Community Activities
American Bar Association
Atlanta Bar Association
Cobb County Trial Lawyers Association, Former Vice President and Treasurer
Leadership Cobb
News & Publications
8 Weinberg Wheeler Hudgins Gunn & Dial Attorneys Recognized Among Ones to Watch

The Best Lawyers in America® 2024 Edition

,

August 17, 2023

4 Weinberg Wheeler Hudgins Gunn & Dial Attorneys Recognized Among Ones to Watch

The Best Lawyers in America 2023 Edition

,

August 18, 2022
Panayotopoulos, Nick and Nan Rigby, "Consider a 'Prevailing Party' Clause in Employee Contracts," Daily Report, 2 Apr. 2018.
"Legal Alert: Ninth Circuit 'Missile Strike of a Ruling' Curtails Ability to Certify Nationwide Settlement Classes," 25 Jan 2018.
"Legal Alert: US Supreme Curt Continues to Limit State Court Jurisdiction Over Out-of-State Corporations," 26 June 2017.
"The Unexpected Benefits of Pro Bono," Fulton County Daily Report, 12 Aug 2016.
Client Alert: Florida Supreme Court Downsizes the Economic Loss Rule, 12 March 2013.
"Litigation Alert: Cell Phones as Carcinogens," National Product Liability Association's Brief, Sep 2012.