Ben Weinberg receives State Bar's Tradition of Excellence Award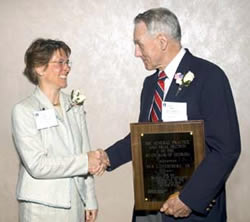 Weinberg Wheeler Hudgins Gunn & Dial's founding partner Ben Weinberg was awarded the Tradition of Excellence Award by the General Practice and Trial Section of the State Bar of Georgia. The award ceremony took place on June 11, 2005 at the State Bar's Annual Meeting in Savannah, Georgia. Weinberg was honored in the defense category. This is the highest award bestowed by the Section, and recognizes his years of outstanding work as defense counsel, in addition to his professionalism in dealing with clients and opposing counsel.
Interestingly, it was someone on the opposing side of several cases, S. Lester Tate III with Akin & Tate in Cartersville, Georgia, who gave remarks about Weinberg. This testifies to Weinberg's exemplary conduct even in times of adversity. Tate explained:
I am so proud that Ben Weinberg has asked me to introduce him because I've never worked for Ben, I've never been his law partner and I've never been co-counsel with him in any case. In fact, I have always, and on every single occasion, been Ben's adversary.

Now, that may surprise some people, and you've heard it said before I know, that you know a man by his enemies. If that were true of Ben Weinberg, we would never know him because in so far as I've been able to discover, he has no enemies. And yet, I believe that Ben, being the true advocate that he is, always being my adversary, has always been my friend.
As Tate concluded, "Ben is the embodiment of that Shakespearian exhortation that we should do as adversaries in the law, 'Strive mightily, but eat and drink as friends.'"