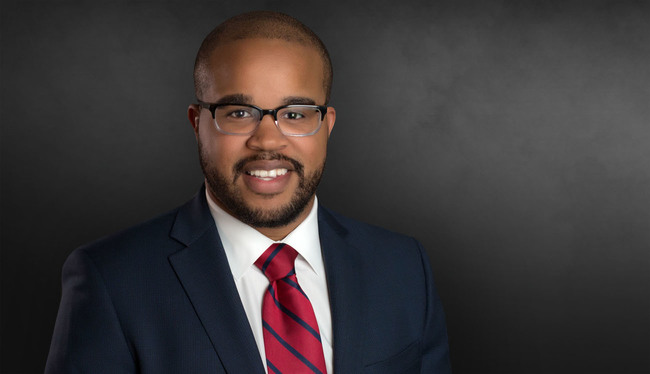 Kyle R. Jackson, Sr.
Member
Kyle R. Jackson, Sr. advocates for clients in high-stakes, high exposure cases in state and federal courts across the country. Kyle is admitted to practice in the District of Columbia, Florida, and Georgia and has represented clients nationally; however, he primarily services his firm's Atlanta and Florida-based offices. Kyle's clientele consists of both businesses and individuals. His practice is devoted to complex civil litigation and appellate practice with an emphasis in negligent security and premises liability, wrongful death and/or catastrophic injury, product liability, professional liability, and commercial litigation cases.
Kyle proudly applies the lessons and principles he learned as a collegiate varsity football scholar-athlete to his daily regimen and, thus, has garnered a reputation for his tireless work-ethic and tenacity in achieving the best possible result for his clients.
Kyle has tried, and assisted in the trial of, cases to verdict, obtained defense verdicts, obtained summary judgment in the difficult venue of Miami-Dade County, Florida, and obtained a prevailing party cost-judgment in excess of $160,000.00 for the global leader in the beverage industry; which judgment, was later affirmed by the Florida Third District Court of Appeal. Kyle has also won dismissal and/or default judgment and has successfully resolved numerous cases for his clients through settlement.
Prior to joining WWHGD, Kyle attended and played football for the Georgia Institute of Technology where he was a member of the ACC Championship team (2009), served as a varsity starter at both Inside and Outside Linebacker, and earned the accolades of ACC Defensive Rookie of the Year (2008) and Honorable Mention Freshman All-American (2008). While at Georgia State University, College of Law, Kyle was a Scholar for the 1L Leadership Counsel on Legal Diversity. He also competed in Moot Court and won multiple Mock Trial championships including one national championship. His skill in evidence and oral advocacy earned him the Nai Karimimanesh Memorial Scholarship for Excellence in Advanced Evidence, the Georgia Civil Justice Foundation Litigation & Advocacy Scholarship, and membership to the Logan E. Bleckley Inn of Court.
Kyle is originally from Houston, Texas; but was raised primarily in Georgia's Metro-Atlanta area.
Practice Areas
Education
Georgia Institute of Technology, B.S., with honors, 2010
Varsity Letterman, Football
Georgia State University College of Law, J.D., 2015
Mock Trial Team, National Champion
Moot Court
Bar & Court Admissions
The Florida Bar
State Bar of Georgia
District of Columbia Bar
U.S. District Court, Middle, Northern and Southern Districts of Florida
Representative Experience
Second chair in defense of national leader in the provision of funeral services in emotionally-charged, week-long jury trial involving a funeral mis-burial and claims of fraud, intentional infliction of emotional distress, negligence, breach of contract, violations of the Georgia Cemetery Act, and punitive damages. The trial team successfully obtained defense verdicts on the claims for fraud, intentional infliction of emotional distress, and punitive damages, while effectively limiting Plaintiffs' recovery to an amount that was 84% less than Plaintiffs' last demand.
Assisted trial team in the defense of national prominent insurance company in preparation for two-week, class action jury trial involving claims of independent contractor misclassification under ERISA involving approximately 7,000 class members.
Third chair in prosecution for global leader in the beverage industry during "bench trial" style evidentiary hearing occurring over several months and involving proving entitlement to prevailing party costs in excess of $160,000.00. A judgment was awarded in favor of our clients following the direct and cross examination of numerous witnesses, presentation of all evidence, and open/closing statements and arguments.
Per curiam affirmed by the Florida Third District Court of Appeal after successfully responding to an appeal the above-referenced cost judgment awarded to client in Florida's 11th Judicial Circuit Court in and for Miami-Dade County.
Obtained final summary judgment in difficult South Florida venue (Miami-Dade County) in defense of global leader in the beverage industry regarding property damage allegedly caused by a collision into the home of Plaintiff after client's tractor trailer was struck and overturned by third party. The Trial Court awarded final summary judgment on the grounds of failure to prove damages, failure to mitigate damages, and the doctrine of laches.
Currently handling the response to an appeal in Florida's Third District Court of Appeal related to the above-reference Order entering final summary judgment.
Previously assisted in petition to Florida's Fourth District Court of Appeal for certiorari regarding Trial Court's discovery Order prohibiting the discovery of mental health records in issue.
Assisted in taking over inexplicable, no witness/assailant, high exposure double-homicide, negligent security case from prior counsel. Within 30 calendar days, we successfully reached a settlement agreement, at the satisfaction of our clients, prior to trial set to begin within 30 days of settlement.
Obtained default judgment for well-known boating repair company in Plaintiff's action to recover damages for breach of contract and trespass to chattels.
Successfully litigated numerous claims for national leader in the provision of funeral services ranging from auto-accident to premises liability through settlement at client's satisfaction.
Currently assisting in defense of numerous housing complexes, bars/lounges/night clubs against multi-million dollar, negligent security claims for catastrophic injury and/or wrongful death.
Currently assisting in defense of national leader in the provision of funeral services in numerous premises liability, auto-accident, personal injury, and wrongful death claims.
Currently assisting in defense of nationally-known gas station against high exposure premises liability claims arising from a slip-and-fall on the property.
Awards & Recognitions
Nai Karimimanesh Memorial Scholarship Recipient for Excellence in Advanced Evidence
Georgia Civil Justice Foundation Litigation & Advocacy Scholarship Recipient
1L Leadership Counsel on Legal Diversity Scholar
Logan E. Bleckley Inn of Court
2008 ACC Defensive Rookie of the Year, Football
Professional & Community Activities
Dade County Bar Association
Gate City Bar Association
National Bar Association
News & Publications
Events & Speaking Engagements
Miami Marriott Biscayne Bay

,

June 4, 2019

Orlando, FL

,

December 7, 2017